APRIL 2012
An Afternoon for the Ages
My first several safari trips to see tigers in the wild had been exercises in futility. I was told to stay patient and my time would ultimately come. We came close to seeing a big cat on several occasions but seemed to miss out by the tiniest of margins every time.
And so my visit to Ranthambhore in the scorching summer heat of April 2012 started with modest expectations. This was my first visit to this National Park and I had little to go by. My previous tiger trips had been to Jim Corbett National Park in the winter months - not ideal from a probability standpoint for seeing tigers given the topography, thick vegetation and time of year.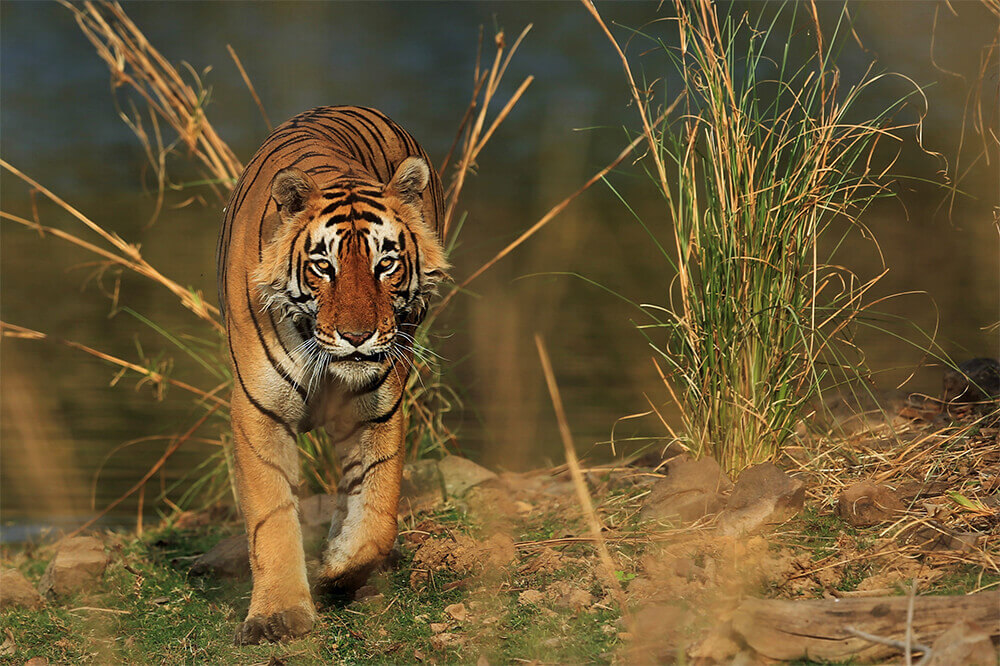 Our first afternoon safari yielded perhaps the most amazing tiger sighting and encounter I have been fortunate to have had to date. As we approached Rajbagh Lake in the early evening, our guide suddenly asked the driver to stop in excitement as he had spotted a tiger sitting far away near the monument in the water. It took me a half minute to get a clear look at the tiger - a large male - who's head was visible but not much else. Our guide had already identified him as the "Star Male" or T-28. His name, he told us, was a result of the distinctive 5-point star located on top of his left eye.
Over the next 30 minutes we watched the Star Male emerge from his cooling spot in the water and slowly and deliberately start walking through the famous rock channel to the center island that sits in the middle of the lake. We were alone - no other jeeps were around - and as he walked he stopped several times looking in our direction, which was a considerable distance from him. Such was the stealth of his movement that the abundant wildlife found all around the lake including sambar deer, boar, chital and many other animals were seemingly unaware of the presence of the Star.
Our guide seemed to know exactly where he was going to go. He told us that he would have to swim to get to his entry point out of the lake and he seemed confident of the direction he was headed in. So we reluctantly agreed to follow his instincts - I was unsure we would see the big male again. And keep in mind - we had been no closer than 150 meters from him up to this point. But our guide had it right - he was spot on. He had positioned our jeep at a point where he thought we would have a clear line of a head on shot of the tiger.
We waited only a few minutes before the guide again spotted Star Male emerge from the water. We were about 100 meters from him at this point but he looked straight in our direction and started walking towards us - looking straight into my 400mm lens. His gait was slow, very deliberate and there was no wasted energy. At this point he had been spotted by monkeys, peacocks and there were multiple sambar alarm calls to be heard. The forest seemed paralyzed with fear and the tension was palpable in every sense. I had little experience or knowledge of tiger behavior with this being my first experience in the wild. I assumed the tiger would see us and veer away from us, but this didn't happen. He never deviated from the initial line he took in our direction and ultimately walked right by us on the edge of the lake- no more than a few meters from the jeep.
The star above his left eye was very distinctive as advertised. He was a big, bold and very beautiful male - a huge mane around his head. He was in his prime on this day in 2012 and controlled a large territory including the famous lakes. As he walked by us and disappeared into the forest, I was completely stunned and in awe of what we had just witnessed.
I never did see the Star Male again but followed him in ensuing years through social media. He was a prolific sire - with the famous Machli daughter "Krishna" being his preferred parter - and fortunately many of his offspring carry on his legacy in the National Park today. In fact, the current Queen ruling the lake areas of the park today is his daughter Arrowhead who strongly reminds me of her father. Star Male sadly left us in March 2018 but I will never forget the glorious three quarters of an hour he allowed my family to spend with him in April 2012. RIP Star Male.
Go Back