JUNE 2019
An Encounter with the King
Sometimes things happen when you least expect them to. This was my experience with Ranthambhore's current king - known as T-86. By virtue of controlling a large territory including the famous lake areas of Rajbagh - he has rightly earned that designation and title. I had heard a lot about him in the past couple of years, but over several trips had not come close to seeing the big guy. He was mysterious, shy, impressively sized and supposedly very handsome according to guides and others who had seen him. The constant in all of their sightings was that they were brief. He didn't like the commotion that typically accompanies most tiger sightings and it was rare for him to be seen for much more than a few minutes.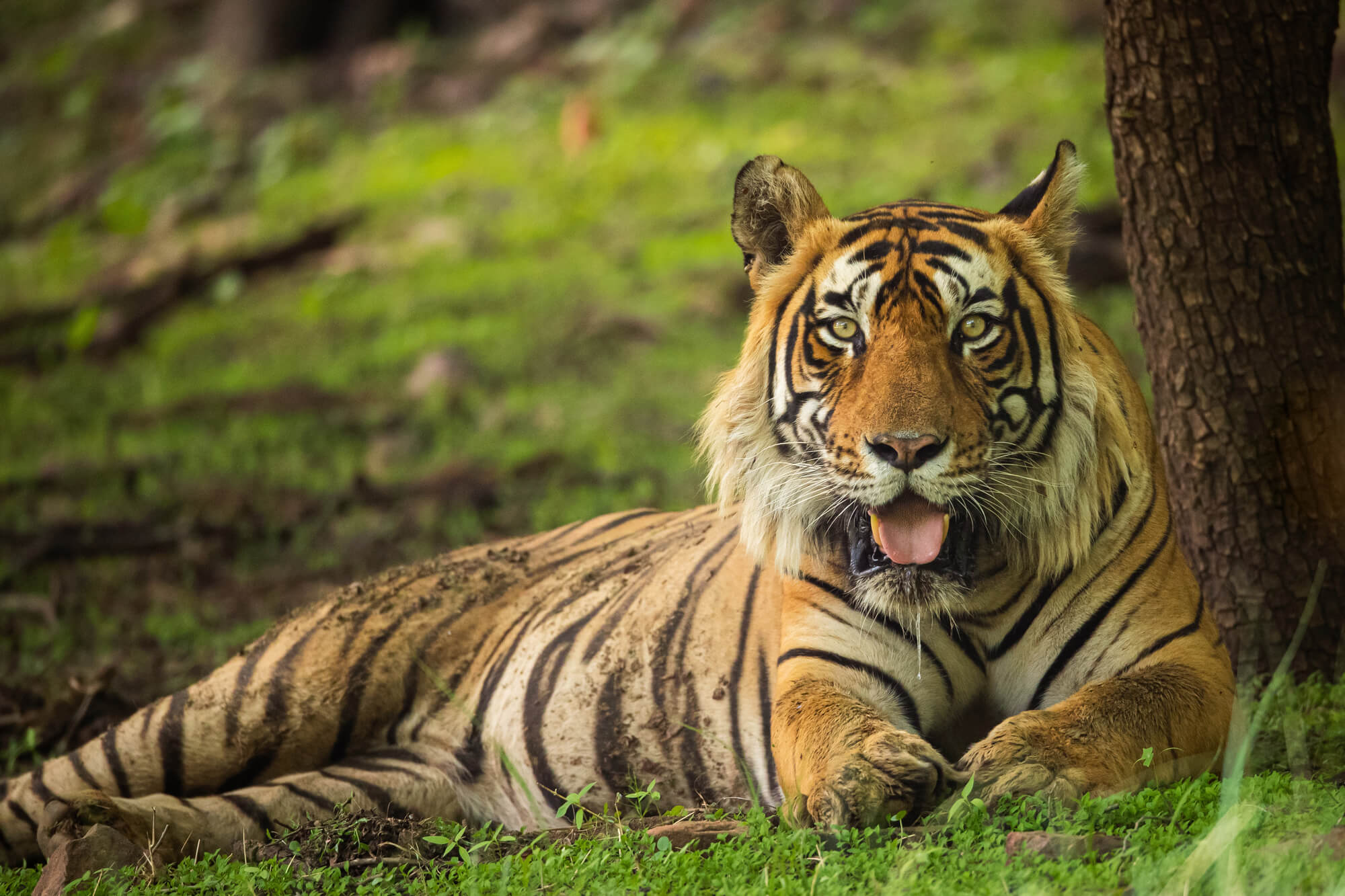 So on this day in late June, with the forest already having turned to a lush green with just a couple of heavy pre-monsoon rains, after a day of futility where we saw a lot of wildlife but no big cats - and just when I was ready to head back to the hotel for a break - there he was. We turned the corner in an elevated area of Zone 3 - which includes the famous Rajbagh Lake - and our guide was the first to spot him. He was sitting no more than 20 yards from the jeep path and had recently emerged from a muddy water hole right next to the path where we stopped. He was a magnificent tiger and very handsome. Half of his body was glistening in fresh wet mud. He had a huge head with a large mane (by tiger standards). He made eye contact and appeared very content resting in his home. We were first on the scene and I was aware of his reputation of hastily exiting similar situations when he was disturbed. We stayed quiet and I starting taking some pictures. The area was tree covered and it was relatively dark as a result but bands of sunlight made there way through the trees. We knew it was only a matter of time before other jeeps joined us - we had come up to the area in search of Arrowhead (the dominant female covering this same area and mating partner of T-86) who had been seen in the area earlier in the day. Others would surely do the same. Finding the King here was a huge surprise! Not much more than 10 minutes after arriving, two jeeps showed up. True to his reputation, T-86 stood up and started retreating into the forest. Perhaps 30-40 meters into the forest he stopped and sat down giving me a few more opportunities to use the long lens. The Canon 800mm came in very handy here. A minute later after more jeeps arrived, our striped friend had had enough and slowly disappeared into the forest for good. Was this it? I certainly thought so but was very grateful that we had the opportunity to spend the time we did with him.
But a day later, in our final session of this visit, we were driving a considerable distance away in Zone 1 of the Park. Perhaps 5 kilometers away. All of the activity this afternoon/evening was in the lake area of Zone 3 as Arrowhead had been spotted with her cubs earlier in the day multiple times. We decided to venture into Zone 1 which was empty and given the park was about to close for the monsoon season, it wasn't particularly busy in general. So as we were driving along we suddenly chanced upon two jeeps parked on the side of the road staring into a tree covered canopy at a large male. There he was again! T-86! He was facing in our direction but the scene was challenging from a lighting standpoint - backlit and he himself was quite dark given the tree cover. T-86 seemed very calm and again had spent time in a water hole in an open area next to the trees. All three jeeps were very quiet and respectful of the King's presence. This was his home and his time and it was our obligation to treat him with the respect we would ourselves want when in our own homes. We spent a glorious 75 minutes with this majestic dominant male and while he stayed in a stationary position for the most part it was an experience I will never forget. We were not disturbed by anyone else for the entire time until a motor cycle came speeding up the road towards us. This was all the commotion the big tiger needed or perhaps he was ready to move on anyway as it was getting quite dark now. He got up, stretched and slowly and deliberately walked away into the forest. He was gone again.
These encounters in the wild with these magnificent creatures cannot properly be described on paper. The emotions that one feels are surreal and you gain a respect and awe for nature that you had previously not known. I am just fortunate to have been able to capture some of the moments we shared with this amazing tiger on camera.
T-86 is currently in his prime - 6 or 7 years old. I hope he has many more years of health and success ruling this land.
Go Back